People born on February 20 are caring, talkative, and like a business.
Horoscope and personality for those born on February 20
Talented, friendly, sociable people: they live in harmony with their environment and their family. Successful family and social relationships can bring you a lot of happiness in life.
Due to their longing for wealth and a life of prosperity, they approach their business with care and scrupulousness towards their clients. It must be admitted that they show a sense of truth and justice in everything they do. They would like to rule over others and influence their environment through the power of conviction, as well as fulfill their life goals through their remarkable ability to adapt to conditions and circumstances. Business people are successful if they manage to unite two factors of a contradictory nature, which will allow them to create new possibilities of general interest. In this way, they can connect two forces that might be incomplete or ineffective when left separate into a single, useful entity. Even so, they are very lazy on social issues. Due to their innate courtesy, they would like to obey everyone and promise them whatever they want. But they soon forget their promises or discard them. "What's the harm in that?" Says such a kind person naively. They are usually dressed carefully and with a certain degree of good taste. They like to talk excessively about their actions, but they do not mention their mistakes, illnesses, or failures at all. There are some very cheerful people among those born on this day, but there are also heartless flirtations among women. Marriage usually helps men in their development and inner rebirth. When they enter a happy marriage, they become happy and satisfied with life. But their marriage can often not be harmonious. They are individuals of a double nature, capable of achieving internal harmony only through reason and self-control.
The days of February 20: Eleuterio, Leდ³n, Ludmila.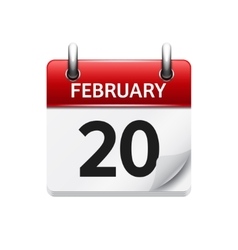 Zodiac sign for those born on February 20
If your birthday is February 20, your zodiac sign is  
Pisces
.
February 20 - personality and character
character: 
truthful, forgiving, tough - hard-working, irritable, moody, superstitious
profession: 
electrician, teacher, artist
colors: 
yellow, beige, emerald
stone: 
quartz
animal: 
sea lion
plant: 
nasturtium
lucky numbers:
  33,35,46,48,49,52
super lucky number:
  1
Holidays and observances - February 20
Cameraman Day.

World Day of Social Justice.

International Pipe Day.

International Cat Day.

Flag of Peru Peru: Emollient Day, Quinoa, Maca, Kiwicha, and Other Traditional Natural Drinks.
February 20 Celebrity Birthday. Who was born the same day as you?
1900: Agustდ­n Segura, Spanish painter (d. 1988).
1901: Muhammad Naguib, Egyptian politician and military man (d. 1984).
1902: Ansel Adams, American photographer (d. 1984)
1904: Alexey Kosygin, Soviet president.
1906: Gale Gordon, American radio and television actor (d. 1995).
1909: Oscar Alemდ¡n, Argentine guitarist and composer (d. 1980).
1912: Pierre Boulle, French writer (d. 1994).
1914: Francisco de Paula, Argentine actor (d. 1985).
1917: Juan Vicente Torrealba, Venezuelan musician, and composer.
1919: Luis Bedoya Reyes, Peruvian politician.
1920: Carmela Arias and Dდ­az de Rდ¡bago, Spanish financier (d. 2009).
1921: Conrado San Martდ­n, Spanish actor.
1923: Forbes Burnham, Guyanese politician (d. 1985).
1925: Robert Altman, American filmmaker (d. 2006).
1926: Richard Matheson, American writer.
1926: Alfonso Sastre, Spanish writer, and playwright.
1926: Ken Olsen, American engineer and businessman (d. 2011).
1927: Roy Cohn, American lawyer (d. 1986).
1927: Ibrahim Ferrer, Cuban singer (f. 2005).
1927: Sidney Poitier, American actor.
1928: Osvaldo Berlingieri, Argentine tango pianist (f. 2015).
1932: Enrique Mდºgica Herzog, Spanish politician.
1932: Robert Ader, American psychiatrist and academic (d. 2011).
1933: Manuel Alejandro, Spanish composer, arranger, and music producer.
1934: Bobby Unser, American racing driver.
1937: Robert Huber, German chemist, 1988 Nobel Prize winner for chemistry.
1937: Roger Penske, driver and owner of the American motorsport team.
1937: Nancy Wilson, American singer.
1940: Christoph Eschenbach, pianist, and conductor, German.
1940: Jimmy Greaves, British American football player.
1942: Ernდ¢ni Lopes, Portuguese politician and economist (d. 2010).
1943: Roberto Jordდ¡n, Mexican singer, composer, and actor.
1943: Antonio Inoki, Japanese fighter.
1943: Mike Leigh, a British filmmaker.
1944: Willem van Hanegem, Dutch American football player.
1945: Enrique Sდ¡nchez Abulდ­, Spanish cartoonist.
1946: Brenda Blethyn, British actress.
1946: Riccardo Cocciante, Italian-French musician.
1947: Peter Strauss, American actor.
1948: Jennifer O'Neill, American actress of Brazilian origin.
1950: Ismael Miranda, Puerto Rican singer.
1950: Tony Wilson, British journalist, and businessman (d. 2007).
1950: Walter Becker, American musician of the band Steely Dan.
1951: Gordon Brown, British politician.
1951: Anthony Davis, American jazz composer, and pianist.
1952: Elsa Bornemann, Argentine writer (d. 2013).
1953: Riccardo Chailly, Italian conductor, and musician.
1954: Patty Hearst, American actress.
1954: Anthony Stewart Head, British actor.
1954: Billy Pontoni, Colombian musician.
1960: Ennio Marchetto, Italian comic actor.
1961: Manuel Domდ­nguez Hernდ¡ndez, Spanish politician.
1962: Hilario Pino, Spanish journalist.
1963: Charles Barkley, American basketball player.
1963: Ian Brown, singer of the band Stone Roses.
1964: Roberto Ganდ¡n Ojea, Spanish singer and guitarist, of the band Ska-P.
1964: Willie Garson, American actor of character.
1964: Milagro Sala, Argentine indigenous activist.
1966: Cindy Crawford, American model.
1967: Kurt Cobain, American singer and guitarist of the band Nirvana (f. 1994).
1967: Katherine Soucie, American dubbing actress.
1967: Andrew Shue, American television actor.
1967: Lili Taylor, American actress.
1969: Juan di Natale, Argentine television host.
1969: Siniვ¡a Mihajloviე‡, Serbian footballer.
1969: Danis Tanovic, Bosnian filmmaker and screenwriter.
1972: Roxana Dდ­az, Venezuelan model and actress.
1972: Maju Lozano, actress, and Argentine television host.
1975: Brian Littrell, American singer of the band Backstreet Boys.
1975: Rahman Rezaei, Iranian footballer.
1976: Gail Kim, Canadian fighter.
1977: Bartosz Kizierowski, Polish swimmer.
1977: Stephon Marbury, American basketball player.
1978: Lauren Ambrose, American actress.
1978: Jay Hernდ¡ndez, American actor.
1978: Julia Jentsch, German actress.
1978: Felipe Andrდ©s Vilches Plaza, Chilean entrepreneur.
1980: Artur Boruc, Polish footballer.
1980: Imanol Harinordoquy, French rugby player.
1980: Sergey Zuev, Russian futsal player.
1981: Ed Lay, British drummer of the band Editors.
1981: Tony Hibbert, British footballer.
1981: Moisდ©s Hurtado, Spanish soccer player.
1981: Chris Thile, American musician.
1984: Brian McCann, American baseball player.
1984: Diego Mesaglio, Argentine actor.
1984: Keisuke Koide, Japanese actor.
1985: Julia Volkova, Russian singer, a former member of the band tATu.
1987: Miles Teller.
1988 American actor: Rihanna, Barbadian and American singer, designer, songwriter, actress, and model.
1990: Ciro Immobile, Italian footballer.
2014: Eleanor of Sweden, Princess of Sweden, Duchess of Gotland.