People born on January 11 are smart, hard-working, with a lively sense of humor.
Horoscope and personality for those born on January 11
Introverted, serious, calm people: they appear very elegantly on the outside, often coldly, avoiding any ostentation.
But still, in general, they crave the sympathy of others. Even highly developed people of this type are difficult to deal with because of their constant quest to rank better than your company. Such people can, to the highest degree, make use of their life skills and possibilities. They believe in themselves and achieve their goals counting only on themselves. They show a great aptitude to adapt and imitate capacity, they are also very physically active. They can direct other people when necessary and organize them, showing a meaningful reason and decision. They have a lot of respect for all forms of life, for the higher social spheres and the official ranks. They differentiate very markedly between their approach to subordinates and superiors, in accordance with which they strictly regulate their behavior and the words used for both. When they act that way, they go astray, showing too much respect for positions and offices held by undeserving people. His shortcomings: vanity and superficiality of the intelligence of an average worldly person. Good Speakers: They often use harsh or trivial words. What unnecessarily bothers them: They are constantly annoyed by the fear of being deceived or bad spoken by people, or by acting in one way or another. This spoils their mood and prevents them from experiencing the joy of life.  Their moods can be quite variable anyway, as can your destiny. They are people capable of a very deep love, but they cannot show it on the outside. They become very attached and strongly experience the torment of jealousy, which they will never admit. The days of January 11: Alejandro, Guillermo, Hortensia, Higinia, Higinio, Modesto, Matilda, Salvio.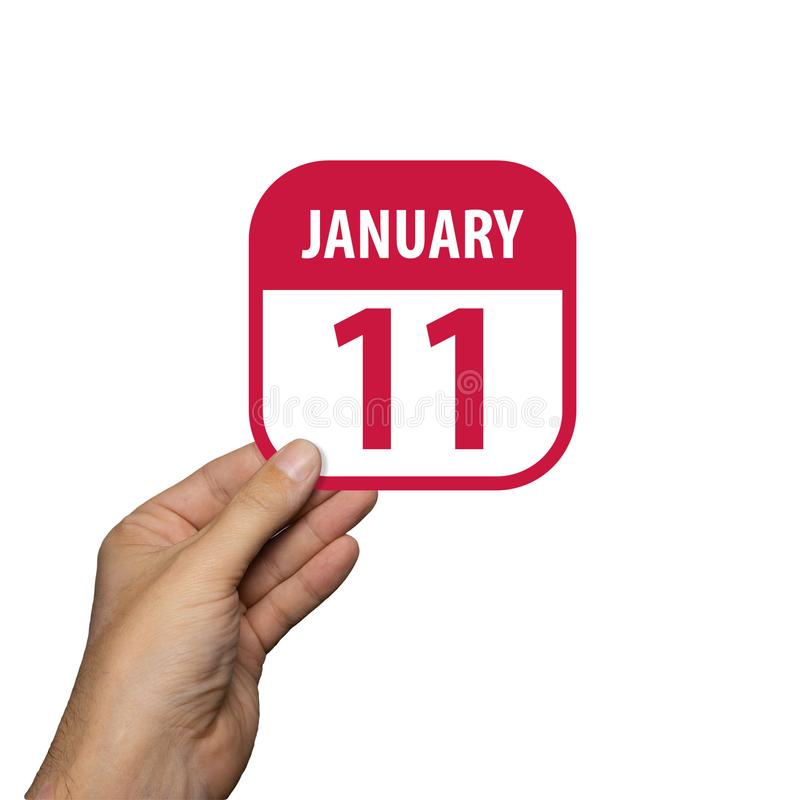 Zodiac sign for those born on January 11
If your birthday is on January 11, your zodiac sign is  Capricorn
January 11 - personality and character
character: 
kind, friendly, vigilant, superstitious, touchy, conceited
profession: 
actor / actress, dressmaker, railway worker
colors: 
gray, pink, brown
stone: 
red beryl
animal: 
arctic fox
plant: 
Acacia tree
lucky numbers:
  2,11,16,46,50,56
super lucky number:
  33
Holidays and observances - January 11
Chile: Cyberactivism Day.
Albania: Republic Day.
Nepal: National Unity Day.
Morocco: Manifesto of Independence.
January 11 Celebrity birthdays. Who was born the same day as you?
1902: Maurice Duruflდ©, French organist and composer (d. 1986). 1903: Alan Paton, South African educator, politician and activist (d. 1988). 1904: Miguel დ?ngel Menდ©ndez Reyes, Mexican writer (d. 1982). 1905: Manfred Bennington Lee (Emanuel Manford Lepofsky), Jewish-American writer, who with his cousin Frederic Dannay used the pseudonym Ellery Queen (d. 1971). 1905: Higinio Ruvalcaba, Mexican musician (d. 1976). 1906: Albert Hofmann, Swiss chemist (d. 2008). 1907: Pierre Mendდ¨s France, French politician (d. 1982). 1910: Nikos Kavvadდ­as, Greek poet (d. 1975). 1910: Teodosio Aguirre, Chilean soccer player (d. 2011). 1912: Emiliano Zuleta, Colombian composer, accordionist and singer (f. 2005). 1920: Nelly Lდ¡inez, Argentine actress and comedian (d. 2008). 1921: Gory Guerrero, Mexican wrestler (d. 1990). 1922: Guillermo Silveira, Spanish painter and sculptor (d. 1987). 1923 - Carroll Shelby, American automobile designer. 1924: Roger Guillemin, French endocrinologist. 1927: John Lynch, British historian. 1930: Rod Taylor, Australian actor (d. 2015). 1932: Alfonso Arდ¡u, Mexican director and actor. 1934: Jean Chrდ©tien, Canadian politician, prime minister between 1993 and 2003. 1934: CAR Hoare, British scientist and computer scientist. 1938: Josep Maria Flotats, Spanish actor and theater director. 1940: Franco Balmamion, Italian cyclist. 1941: Barry Flanagan, British sculptor (d. 2009). 1942: Clarence Clemons, American musician, of the band E Street Band (d. 2011). 1942: Blas Matamoro, Spanish-Argentine writer. 1942: Hugh Stubbins, American architect (d. 2006). 1943: Eduardo Mendoza, Spanish writer. 1943: Luis Varela, Spanish actor. 1944: York Hდ¶ller, German composer. 1945: Polo Carrera, former Ecuadorian soccer player. 1946: Wally Anderzunas, American basketball player (d. 1989). 1948: Terry Williams, British drummer, of the bands Man, Rockpile and Dire Straits. 1949: Jaime Valdდ©s, Hispanic-Mexican writer. 1951: La Mona Jimდ©nez, Argentine singer. 1954: Vicky Peდ±a, Spanish actress. 1954: Kailash Satyarthi, Indian activist. 1956: Vicente Martდ­nez-Pujalte, Spanish politician. 1957: Claude Criquelion, Belgian cyclist. 1957: Bryan Robson, British football player and coach. 1958: Diego Leდ³n Montoya Sდ¡nchez, Colombian drug trafficker. 1958: Alison Reed, American actress and singer. 1959: Josდ© Luis Llorente, Spanish basketball player. 1960: Marcelo Moura, Argentine singer, pianist and current leader of Virus 1968: Sergio Cortდ©s, Chilean tennis player. 1968: Pedro Sicard, Cuban actor. 1968: Andrდ©s Ciro Martდ­nez, Argentine singer, composer and musician 1969: Consuelo Duval, Mexican actress and comedian for television and theater. 1970: Manfredi Beninati, Italian artist. 1970: Franco Davდ­n, Argentine tennis player. 1971: Aitor Arregi, Spanish footballer. 1971: Mary J. Blige, American singer. 1971: დ?lex Delgado, Venezuelan baseball player. 1972: Marc Blucas, American actor. 1972: Amanda Peet, American actress. 1973: Rockmond Dunbar, American actor. 1973: Rodrigo Sepდºlveda Lara, Chilean sports journalist. 1974: Micky Huidobro, Mexican bassist, of the Molotov band. 1974: Jens Nowotny, German footballer. 1975: Venetian Snares, Canadian musician. 1975: Matteo Renzi, Italian politician. 1976: Efthimios Rentzias, Greek basketball player. 1976: Eduardo Madina, Spanish politician. 1978: Michael Duff, British footballer. 1978: Emile Heskey, British footballer. 1979: Darren Lynn Bousman, American filmmaker. 1979: Siti Nurhaliza, Malay pop singer. 1980: Julio Marchant, Argentine soccer player. 1980: Damien Wilkins, American basketball player. 1981: Benjamin Auer, German footballer. 1981: Jamelia, English singer. 1981: Jaime Valdდ©s, Chilean soccer player. 1981: Tom Meighan, British musician, of the band Kasabian. 1982: Tony Allen, American basketball player. 1983: Adrian Sutil, German motorsport driver. 1984: Federico Molinari, Argentine gymnast. 1985: Rie Fu, Japanese singer-songwriter. 1985: Kazuki Nakajima, Japanese motorsport driver. 1987: Jamie Vardy, British footballer. 1987: Diosa Canales, singer, actress, model and Venezuelan vedette. 1991: Hyolyn, South Korean singer, songwriter and dancer. 1996: Josდ© Daniel Ortiz, Venezuelan paintball player. 1996: Leroy Sanდ©, German footballer. 1997: Cody Simpson, Australian pop singer.