People born on January 20 are good Speakers and propagandists: they enjoy power, authority, and the position of dominance.
Horoscope and personality for those born on January 20
Such tendencies are visible in these people from the earliest years. They immediately annoy their closest relatives and trigger the appropriate reaction, which is simple, and as a result, they have to learn to keep their appetites and ambitions in check early on.
The effort for something extraordinary and the amount of material resources is very important for those born on this day for them. They believe in themselves, they know their own strength and want to apply it in practice. But they always set their eyes on some direct benefit: they want to use every information for their own benefit. As the years go by and they are unable to pursue a career or their wealth seems inadequate, they experience strong dissatisfaction in both their career and wealth. They are born speakers, defenders of propaganda; they seek to convince others to yield to the law and commonly accepted customs. They also show talent for construction and invention. They gladly care for others, take responsibility, and passionately adopt a providential role, sometimes acting on behalf of higher powers. Their virtues arise mainly in a serious professional position: they can be good teachers, supervisors, inspectors, managers and detectives. The defects that could show are a certain secrecy and melancholy. Their mental intelligence is significant. They immediately notice other people's weaknesses and use them appropriately, which only intensifies with age. The undeveloped type of these people shows too much materialism. Their reflections and projects are aimed at taking advantage of the opportunities that life offers them. They cannot complete any work unless they see an immediate and significant benefit. The journey of life for such people is not easy. They have to go through many difficult situations and fight against adversity, but eventually they reach the desired goal. Their tendencies and preferences are quite simple. They are nice, hard-working, serious people with a calm mind. The days of January 20: Fabiდ¡n, Sebastiდ¡n. Proverb: Dopiero przy ვ›w. Fabianie Czasem prawdziwa zima nastanie (True winter will not come until Saint Fabian) [caption id="attachment_18991" align="aligncenter" width="612"]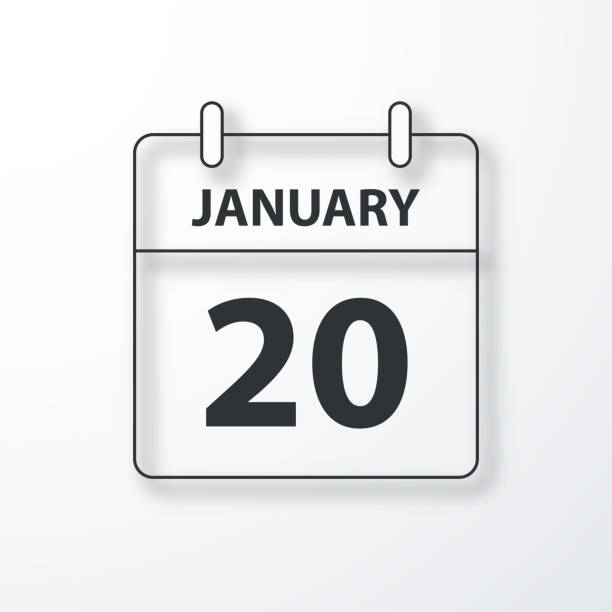 January 20. Calendar Icon with a thin black outline and a shadow, isolated on a blank background. Vector Illustration (EPS10, well layered and grouped). Easy to edit, manipulate, resize or colorize.[/caption]
Zodiac sign for those born on January 20
If your birthday is on January 20, your zodiac sign is  Capricorn
January 20 - personality and character
character: 
trustworthy, impeccable, fearless, short-tempered, severe, arrogant
profession: 
journalist, carpenter, sales representative
colors: 
silver, orange, pink
stone: 
cat's eye
animal: 
dolphin
plant: 
calendula
lucky numbers:
  6,34,37,50,55,56
super lucky number:
  8
Holidays and observances - January 20
Mexico: Feast of Saint Sebastian in Saდ­n Alto (Zacatecas), Leდ³n (Guanajuato) and Huitchila (Morelos).
Colombia: Corralejas in the city of Sincelejo.
Venezuela: San Sebastiდ¡n International Fair (FISS), 3 in San Cristდ³bal, Tდ¡chira State
Spain: Festivity of San Sebastiდ¡n in the following locations.
Chile: Chilean Roto Day 2
Peru: Patronal Festival of the Virgin Most Pure in the town of Pampas, Tayacaja province.
January 20 Celebrity birthdays. Who was born the same day as you?
1903: Esteban Vicente, Spanish painter (d. 2001). 1910: Joy Adamson, Austrian naturalist (d. 1980). 1910: Allal al-Fasi, Moroccan politician and writer (d. 1974). 1913: Chucho Navarro, Mexican musician (f. 1993). 1914: Gerald Holtom, British artist and designer (d. 1985). 1915: Ghulam Ishaq Khan, Pakistani president (d. 2006). 1918: Juan Garcდ­a Esquivel, Mexican composer (f. 2002). 1920: Federico Fellini, Italian film director (d. 1993). 1920: DeForest Kelley, American actor (d. 1999). 1920: Marcos Ana, Spanish poet. (f. 2016) 1921: Telmo Zarraonaindდ­a, Spanish footballer (f. 2006). 1924: Ramდ³n Xirau, Mexican poet and philosopher. (f. 2017) 1925: Ernesto Cardenal, Nicaraguan theologian and politician. 1926: Dimas Costa, Brazilian poet, folklorist, composer, actor, radio and television announcer (b. 1997). 1926: Juan Carlos Mareco, Uruguayan television presenter (d. 2009). 1926: Patricia Neal, American actress (d. 2010). 1926: David Tudor, American composer (d. 1996). 1926: Vitali Vorotnikov, Russian politician. (f. 2012). 1927: Qurratulain Haider, Hindu writer (d. 2007). 1927: Alejandro Romay, Argentine businessman and television producer (d. 2015). 1929: Jean-Jacques Perrey, French musician and producer. (f. 2016) 1930: Buzz Aldrin, American astronaut. 1930: Federico Vairo, Argentine soccer player (d. 2010). 1931: Birgit Finnilდ¤, Swedish alto. 1931: David Morris Lee, American physicist, Nobel Prize in Physics in 1996. 1933: Emilio Alfaro, Argentine actor and filmmaker (d. 1998). 1934: Tom Baker, British actor. 1937: Amando de Miguel, Spanish sociologist. 1943: Valentდ­n Fuster, Spanish cardiologist. 1944: Josდ© Luis Garci, Spanish film director. 1945: Fდ©lix Sanz Roldდ¡n, Spanish military man. 1945: Eric Stewart, British musician (10cc). 1946: Alberto Cortina, Spanish financier. 1946: David Lynch, American film director. 1948: Natan Sharansky, Israeli politician of Russian origin. 1949: Gდ¶ran Persson, Swedish politician and prime minister. 1950: Mahamane Ousmane, Nigerian president. 1951: Ian Hill, British musician (Judas Priest). 1951: Joaquდ­n Hinojosa, Spanish actor and theater director. 1952: Paul Stanley, guitarist, American vocalist (Kiss). 1954: Rudy La Scala, Italian-Venezuelan singer-songwriter. 1956: Rodolfo Rodrდ­guez, Uruguayan soccer player. 1958: Lorenzo Lamas, American actor. 1959: RA Salvatore, American writer. 1960: Carla Rigg, former model and Lithuanian designer of Argentine origin. 1960: Will Wright, American video game designer. 1963: James Denton, American actor. 1964: Oswaldo Guillდ©n, Venezuelan baseball player, coach and sportscaster. 1965: Greg K, American musician (The Offspring). 1965: Sophie, Countess of Wessex. 1966: Tracii Guns, American guitarist (Guns N 'Roses and Quiet Riot). 1967: Pepდ³n Nieto, Spanish actor. 1968: Roberto Enrდ­quez, Spanish actor. 1968: Rainn Wilson, American actor. 1970: Kerri Kenney-Silver, actress, singer and American screenwriter. 1970: Rosa Mariscal, Spanish actress. 1970: Skeet Ulrich, American actor. 1971: Derrick Green, American singer (Sepultura). 1971: Gary Barlow, singer, songwriter and British producer (Take That). 1972: Oscar Dronjak Swedish musician (Hammerfall). 1973: Matilde of Belgium, Belgian Queen. 1973: Stephen Crabb, British politician. 1975: Norberto Fontana, Argentine motor racing driver. 1976: David DeMarდ­a, Spanish singer-songwriter. 1978: Gabriel Migliდ³nico, Argentine soccer player. 1979: Rob Bourdon, American drummer (Linkin Park). 1980: Matthew Tuck, British guitarist (Bullet for My Valentine). 1980: Pierre Webდ³, Cameroonian footballer. 1981: Owen Hargreaves, British footballer. 1981: Crystal Lowe, Canadian actress. 1981: Jason Richardson, American basketball player. 1983: Geovany Soto, Puerto Rican baseball player. 1987: Marco Simoncelli, Italian motorcycle racer (f. 2011). 1987: Evan Peters, American actor. 1989: Nadia Di Cello, Argentine actress. 1991: Jolyon Palmer, British Formula 1 racing driver. 1995: Josდ© Marდ­a Gimდ©nez, Uruguayan footballer.