People born on January 23 are stable, patient, idealistically oriented; they must remember to keep their promises
Horoscope and personality for those born on January 23
They are defenders of progress, humanitarianism, the unity of the people; They are happy to participate in any social work, they support the political movement, but only up to a point.
They avoid more exposures and prefer being less in the lime light. Thoughtful, cunning, intelligent: they express an extraordinary intuition that allows them to easily determine and see through the personalities of others. They show social virtues. They are understanding, popular, but also careful, full of tact, patience and perseverance. They can easily move through all spheres and win friends there. But sometimes they forget to keep their promises. Their body is, generally, of strong complexion, with brown complexion. Of calm temperament. Your life tasks will be honorable but they won't bring much in the way of profit. What career is best for these people? They can achieve the greatest success as artists, musicians, academics, intellectual workers, private secretaries, or in any literary position. They can also be good businessmen or politicians. They have a broad vision that is often misunderstood by their environment. They will also do well in all associations, societies, public groups and, in general, in larger companies. The shortcomings of this birthday: indecision, caprice, willingness to remain separate from others and accentuate personal originality at any cost. Sometimes they can give too much importance to external forms, expressing aging and wickedness. What should they be careful of? From being too fearful and having tendencies to get sad. Depression often comes after periods of idealistic heights. What threatens them: These people can be affected by some special disappointments in life, caused by too little practicality or the death of their loved ones. Their willpower could be inadequate to control everything that life throws at them, The days of January 23: Armando, Ildenfonso, Alberto, Alberta, Marდ­a, Raimundo, Raimunda, Paz, Xenia. [caption id="attachment_18997" align="aligncenter" width="612"]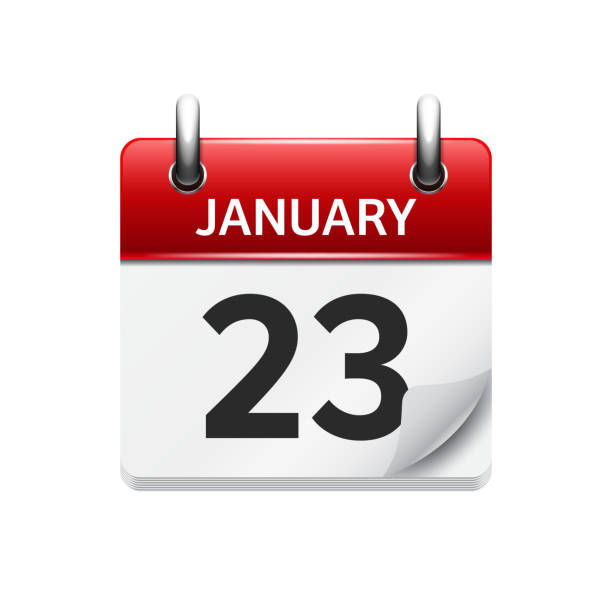 January 23. Vector flat daily calendar icon. Date and time, day, month. Holiday.[/caption]
Zodiac sign for those born on January 23
If your birthday is January 23, your zodiac sign is  Aquarius
January 23 - personality and character
character: 
 loyal, sensitive, disinterested, mean, dismissive, explosive;
profession: 
 conductor, conductor, photographer;
colors: 
 teal, silver, white;
stone: 
 peridot;
animal: 
 squid;
plant: 
 red oak;
lucky numbers:
  25,30,35,36,50,58
super lucky number:
  4
Holidays and observances - January 23
National Musician Day in Argentina, in commemoration of the birth of Luis Alberto Spinetta.
January 23 Celebrity birthdays. Who was born the same day as you?
1903: Jorge Eliდ©cer Gaitდ¡n, Colombian politician (d. 1948). 1907: Dan Duryea, American actor (d. 1968). 1907: Hideki Yukawa, Japanese physicist, Nobel Prize winner in physics in 1949 (d. 1981). 1910: Django Reinhardt, Belgian jazz guitarist and composer (d. 1953). 1913: Jean-Michel Atlan, French painter (d. 1960). 1915: Arthur Lewis, British economist, Nobel laureate in economics in 1979 (d. 1991). 1917: Noდ«l Salomon, French historian (d. 1977). 1918: Gertrude Belle Elion, American biochemist and pharmacologist, 1988 Nobel Prize winner in medicine (f. 1999). 1920: Gottfried Bohm, German architect. 1920: Rosa Marდ­a Aranda, Spanish writer (f. 2005). 1924: Juan Manuel Tenuta, Uruguayan actor (d. 2013). 1928: Chico Carrasquel, Venezuelan baseball player (d. 2005). 1928: Jeanne Moreau, French actress (d. 2017). 1929: John C. Polanyi, Canadian chemist, 1986 Nobel Prize winner for Chemistry. 1930: Federico Vairo, Argentine soccer player (d. 2010). 1930: Derek Walcott, Antillean writer, Nobel Prize for literature in 1992 (d. 2017). 1930: Teresa Zylis Gara, Polish soprano. 1931: Armand Desmet, Belgian cyclist (d. 2012). 1933: Chita Rivera, American actress, singer and dancer. 1934: Pierre Bourgault, Canadian politician (d. 2003). 1937: Juan Radrigდ¡n, Chilean playwright (d. 2016). 1938: Georg Baselitz, German painter and sculptor. 1939: Roser Capdevila, Spanish writer. 1944: Rutger Hauer, Dutch actor. 1944: Arturo Valenzuela, Chilean political scientist. 1945: Nora Cდ¡rpena, Argentine actress. 1945: Gabriela Gili, Argentine actress (d. 1991). 1946: Arnoldo Alemდ¡n, Nicaraguan politician and president. 1947: Joel Douglas, American film producer. 1947: Megawati Sukarnoputri, Indonesian president between 2001 and 2004. 1948: Raდºl Dდ­ez Canseco, Peruvian economist, businessman and politician. 1948: Yosi Domდ­nguez, singer of Los Suaves. 1948: Anita Pointer, American singer, of the band The Pointer Sisters. 1950: Richard Dean Anderson, American actor, protagonist of the television series MacGyver. 1950: Angela Carrasco, Dominican singer and actress. 1950: Danny Federici, American musician, of the band E Street Band (f. 2008). 1950: Luis Alberto Spinetta, Argentine rock guitarist and composer (d. 2012). 1951: Chesley Sullenberger, American aviator. 1953: Pavlo Lazarenko, Ukrainian Prime Minister. 1953: Antonio Villaraigosa, American politician 1953: John Luther Adams, American composer 1954: Franco De Vita, Venezuelan singer, musician and composer. 1956: Juan Vicente Herrera, Spanish politician. 1956: Patricia Sosa, Argentine singer. 1957: Carolina Grimaldi Kelly, Monegasque princess. 1961: Marco Ruas, Brazilian professional wrestler. 1962: Elvira Lindo, Spanish writer. 1962: Laura Ubfal, Argentine journalist. 1963: Claudio Marciello, Argentine guitarist. 1964: Mariska Hargitay, American actress. 1967: Naim Sდ¼leymanoglu, Turkish weightlifter. 1968: Petr Korda, Czech tennis player. 1968: Yasuhiro Takato, Japanese voice actor. 1969: Ariadna Gil, Spanish actress. 1969: Andrei Kanchelskis, Russian footballer. 1969: Valდ©rie Tasso, French writer and sexologist. 1974: Tiffani Thiessen, American actress. 1974: Sampsa Astala, Mexican musician, of the Lordi band. 1976: Haritz Garde, Spanish drums, of the band La Oreja de Van Gogh. 1976: Ingrid Grudke, Argentine model and host. 1976: Nigel McGuinness, British professional wrestler. 1979: Larry Hughes, American basketball player. 1979: Juan Rincდ³n, Venezuelan baseball player. 1980: Unai Exposito, Spanish footballer. 1984: Arjen Robben, Dutch footballer. 1985: Dong Fangzhuo, Chinese footballer. 1985: Doutzen Kroes, Dutch model. 1985: Donnie Klang, American singer. 1986: Josდ© Enrique Sდ¡nchez Dდ­az, Spanish footballer. 1989: April Pearson, British actress. 1990: Ximo Navarro, Spanish footballer. 1998: XXXTentacion, singer and American rapper.