People born on January 27 are never distracted without a reason.
Horoscope and personality for those born on January 27
They have a philosophical attitude, with a significant analytical ability. They are intellectual people who follow progress and are often interested in everything that is extraordinary, unusual, eccentric.
Patient, faithful, perfectly aware of the characters of the people and their sympathies and antipathies are very clear, very visible. Despite their intellectualism, they stick to facts rather than theories. They can achieve a lot with these people through courtesy and gentleness, but they are generally not willing to listen to the orders of others or to allow themselves to be manipulated. They have the strongest character, but, at the same time, the weakest. They possess great inherent abilities that they are not even aware of, and if they were to fully develop them, they would become very useful members of society. But usually this does not happen. When they are not developed, these people are changing, giving in to various urges and turning to cravings. Then they seek advice from others all the time, even when it comes to trivia, but they don't follow it. They very politely ask about a topic, but forget the answer shortly after. They have the ability to pierce the minds of others to effectively protect their own interest in the simpler matters of life. Although they have many different abilities, they tend to be so lazy or unable to focus that these great spiritual gifts are often wasted, and sometimes even lost. What threatens them: They will become victims of their own indiscretion. They meet dangers where they usually least expect them. So these people can get especially hurt in life due to women, war, or guns in general. Knowing the truth is not something you combine with practical actions in life. Their nature is impulsive and stubborn, which can lead to serious conflict with others. What they should strive for: Learn to keep their promises and avoid doubts, whims, procrastination, and procrastination. They should also work to overcome their excessive sensitivity. The days of January 27: Angდ©lica, დ?ngela, Tomდ¡s, Valerio, Valeria, Aniela, Juliდ¡n.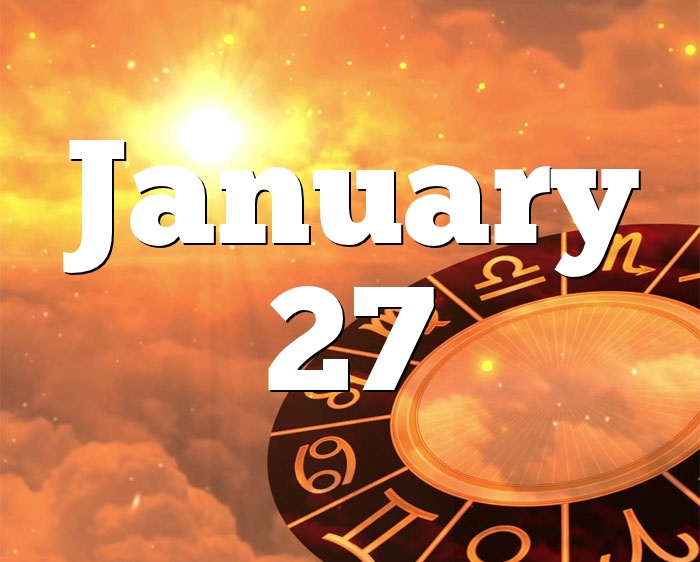 Zodiac sign for those born on January 27
If your birthday is on January 27, your zodiac sign is  Aquarius
January 27 - personality and character
character: 
cunning, forgiving, bright, cunning, messy, spoiled
profession: 
singer, cashier, architect
colors: 
red, beige, crimson
stone: 
moonstone
animal: 
buffalo
plant: 
dogwood
lucky numbers:
  3,24,33,38,41,49
super lucky number:
  21
Holidays and observances - January 27
International Day of Commemoration in Memory of the Victims of the Holocaust (international equivalent of Yom Hashoდ¡)
Nutritionist Day (Mexico).
Memorial Day for the Victims of National Socialism
January 27 Celebrity birthdays. Who was born the same day as you?
1900: Hyman Rickover, American admiral (d. 1986). 1901: Art Rooney, American businessman (d. 1988). 1903: John Carew Eccles, Australian neurophysiologist, 1963 Nobel Prize Winner for Medicine (d. 1997). 1904: James J. Gibson, American psychologist (d. 1973). 1908: Oran Page, American musician (d. 1954). 1910: Fდ©lix Candela, Spanish architect and engineer (d. 1997). 1910: Edvard Kardelj, Yugoslav politician (d. 1979). 1918: Elmore James, American blues guitarist (d. 1963). 1920: Juan de Arespacochaga, Spanish engineer and politician (f. 1999). 1920: John Box, British producer and artistic director (d. 2005). 1920: Vicente Bianchi, Chilean composer. 1920: Helmut Zacharias, German violinist (d. 2002). 1921: Donna Reed, American actress (d. 1986). 1921: Rafael Barდ³n, Spanish writer (d. 1987). 1924: Rauf Denktash, Turkish Cypriot politician and president (1985-2005). 1925: Juan Vitalio Acuna Nდºnez, Cuban peasant and guerrilla; assassinated in Bolivia (f. 1967). 1925: Hugo Villar, Uruguayan scientist. 1926: Ingrid Thulin, Swedish actress, theater director and filmmaker. 1928: Gastდ³n Suდ¡rez, Bolivian playwright and writer (d. 1984). 1928: Hans Modrow, German politician. 1930: Bobby Blue Bland, American singer. 1930: Aloysius Matthew Ambrozic, Slovenian cardinal. (f. 2011). 1931: Mordecai Richler, Canadian writer (d. 2001). 1932: Boris Shakhlin, Soviet gymnast (d. 2008). 1933: Mohamed Al-Fayed, Egyptian businessman. 1934: Federico Mayor Zaragoza, Spanish politician and professor. 1936: Samuel Chao Chung Ting, American Chinese physicist, 1976 Nobel Prize in Physics. 1936: Troy Donahue, American actor (d. 2001). 1936: Manfred Gnდ¤dinger, German sculptor residing in Galicia (f. 2002). 1937: John Ogdon, British pianist and composer (d. 1989). 1940: James Cromwell, American actor. 1940: Petru Lucinschi, second President of Moldova. 1941: Carlos Benjumea, Colombian comedian, theater director, film, theater and television actor. 1942: Katia Iaros, Argentine star, dancer and actress. 1944: Nick Mason, British drummer for Pink Floyd. 1944: Mairead Corrigan, Irish pacifist, Nobel Peace Prize winner in 1976. 1945: Raდºl Becerra, Argentine journalist, producer and television host. 1947: Bjდ¶rn Afzelius, Swedish singer (d. 1999). 1948: Mikhail Baryshnikov, Russian dancer and choreographer. 1948: Valeri Brainin, Russian-German musicologist, music manager and poet. 1948: Jean-Philippe Collard, French pianist. 1949: Montxo Armendდ¡riz, Spanish filmmaker. 1951: Brian Downey, Irish drummer (Thin Lizzy) 1951: Rubდ©n Szuchmacher, Argentine actor and theater director. 1953: Enrique Martდ­nez Heredia, Spanish cyclist. 1955: John Roberts, American lawyer and judge. 1955: Alexander Stuart, British author. 1956: Mimi Rogers, American actress. 1957: Janick Gers, British guitarist for Iron Maiden. 1957: Frank Miller, American graphic novel artist. 1957: Susanna Thompson, American actress. 1959: Gდ¶ran Hდ¤gglund, Swedish politician. 1961: Gillian Gilbert, British musician for New Order. 1961: Willie Revillame, Filipino actor and singer. 1962: Anselmo Fuerte, Spanish cyclist. 1964: Bridget Fonda, American actress. 1964: Jack Haley, American basketball player. 1965: Alan Cumming, Scottish actor. 1965: Mike Newell, British footballer. 1967: Bobby Deol, Indian actor. 1967: Byron Mann, Hong Kong actor. 1967: Manuel Quijano, Spanish singer, of the band Cafდ© Quijano. 1968: Mike Patton, American singer, of the band Faith No More. 1968: Tricky, British musician. 1969: Marc Forster, German film director. 1970: Emmanuel Pahud, Swiss flute player. 1971: Lil 'Jon, American rapper and producer. 1971: Rolando Urდ­os, Spanish handball player of Cuban origin. 1972: Bibi Gaytდ¡n, Mexican actress and singer. 1972: Mark Owen, British singer-songwriter. 1973: Edith Mდ¡rquez, Mexican singer. 1974: Andrei Pavel, Romanian tennis player. 1975: Leonel Garcდ­a, Mexican singer, of the band Sin Bandera. 1976: Ahn Jung-Hwan, South Korean footballer. 1976: Todd MacCulloch, American basketball player. 1977: Diego Moldes, Spanish writer. 1978: Julieta Bal, Argentine actress. 1978: Gustavo Munდºa, Uruguayan soccer player. 1979: Rosamund Pike, British actress. 1980: Marat Safin, Russian tennis player. 1981: Alicia Molik, Australian tennis player. 1981: Francisco Bass, Argentine actor. 1986: Fabiდ¡n Orellana, Chilean soccer player. 1987: Lily Donaldson, British model. 1987: Katy Rose, American singer. 1988: Kerlon Moura, Brazilian soccer player. 1989: Fiorella Migliore, Paraguayan model and actress. 1991: Julio Tehran, Colombian baseball player. 1995: Alex Monner, Spanish actor.