People born on January 4 are sensitive to the other gender: they yearn for recognition and praise
Horoscope and personality for those born on January 4
Their restless and ambitious nature prompts them to take action on a large scale.
They are often critical of contemporary customs or old traditions to feed their analytical mind. They have a tendency to a life full of adventure and gambling. They often display warrior instincts and are very hasty in their quest for income; They have a love for art, and the opposite gender has a great influence on them. They show great interest in flirting, both in their youth and in the future. They are diligent and helpful. They attach significant importance to ceremonies. They enjoy acting formal and want to be treated with respect. They are not overly magnanimous or generous, but absolutely fair, decisive, and occasionally funny and captivating. They can show a tendency to ailments such as colds, rheumatism, and certain digestive disorders. What should they avoid? They long for recognition and praise, and they act the way they want others to. But it is exactly this kind of behavior that discourages people from showing their appreciation. It is a weakness that you should get rid of as soon as possible. His flaws: discontent, arrogance, fear. When they dive into a project, they often lose the main idea and get lost in the details. They have a keen interest in love affairs, both their own and those of others, and sex appeal is particularly strong in them. Especially undeveloped people, when in the company of the opposite sex, experience some discomfort and tend to act unnaturally. Such a person tries to be fun and entertaining, which doesn't always work. The days of January 4: Eugenio, დ?ngela, Angდ©lica, Rigoberto, Aquilino, Aniela, Benita, Isabela.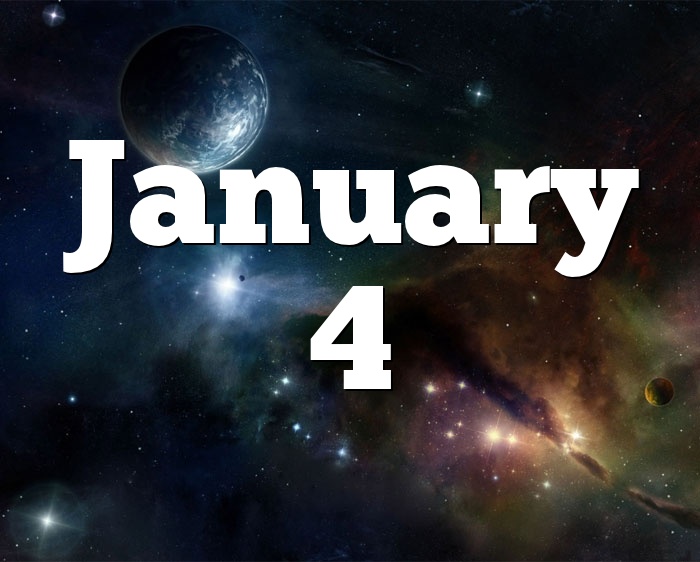 Zodiac sign for those born on January 4
If your birthday is January 4, your zodiac sign is  Capricorn
January 4 - personality and character
character: 
witty, clever, intelligent, malicious, partial, quarrelsome
profession: 
astronaut, obstetrician, anthropologist
colors: 
pink, white, gray
stone: 
malachite
animal: 
lion
plant: 
lady's cloak
lucky numbers:
  16,26,41,44,47,55
super lucky number:
  5
Holidays and Observances - January 4
Journalist's Day in Mexico.
Colombia: Carnival of Blacks and Whites.
January 4 Celebrity birthdays. Who was born the same day as you?
1900: James Bond, American ornithologist (d. 1989). 1902: John McCone, American businessman and politician (d. 1991). 1913: Manuel Andდºjar, Spanish writer (d. 1994). 1913: Sixto Rდ­os Garcდ­a, Spanish mathematician and academic (f. 2008). 1913: Malietoa Tanumafili II, Samoan president (d. 2007). 1914: Jean-Pierre Vernant, French philosopher and historian (d. 2007). 1920: Rosalie Crutchley, British actress (f. 1997). 1922: Fვ«tarვ? Yamada, Japanese writer (d. 2001). 1923: Tito Rodrდ­guez, singer, conductor and Puerto Rican musician of Dominican origin (d. 1973). 1926: Jorge Riestra, Argentine writer. 1929: Juan Carlos Altavista, Argentine comic actor (d. 1989). 1929: Antonio Barrera de Irimo, Spanish politician. 1929: Gდ¼nter Schabowski, German politician (d. 2015). 1932: Carlos Saura, Spanish filmmaker. 1933: Elijah II, Georgian religious. 1935: Floyd Patterson, American boxer (d. 2006). 1937: Grace Bumbry, American opera singer. 1938: Nilda Raggi, Argentine actress and director. 1939: Eduardo D'Angelo, Uruguayan actor and comedian (d. 2014). 1940: Betty Elizalde, Argentine journalist and broadcaster. 1940: Helmut Jahn, German architect. 1940: Brian David Josephson, British physicist, 1973 Nobel Laureate in Physics. 1940: Gao Xingjian, Chinese writer, 2000 Nobel Prize Winner for literature. 1942: John McLaughlin, British jazz guitarist. 1942: Gerardo Vallejo, Argentine filmmaker (d. 2007). 1943: Doris Kearns Goodwin, American writer and historian. 1943: Jesდºs Torbado, Spanish writer and journalist. 1945: Richard R. Schrock, American scientist, 2005 Nobel Prize winner for chemistry. 1947: Tim Rooney, American actor (d. 2005). 1950: Joan Baptista Humet, Spanish singer-songwriter (d. 2008). 1953: Norberto Alonso, Argentine soccer player. 1954: Peter Seiffert, German tenor. 1955: Mark Hollis, British musician, of the band Talk Talk. 1956: Bernard Sumner, British musician, of the bands New Order, Joy Division, Electronic. 1957: Isidoro Fernდ¡ndez, Spanish actor. 1959: Yoshitomo Nara, Japanese artist. 1959: Fernando Aramburu, Spanish writer. 1960: Michael Stipe, American singer, of the band REM. 1961: Daniel F, Peruvian singer, of the band Leukemia. 1962: Peter Steele, American singer, of the band Type O Negative (d. 2010). 1963: Dave Foley, Canadian actor. 1963: Till Lindemann, German singer, of the band Rammstein. 1963: May-Britt Moser, Norwegian neurologist and psychologist, 2014 Nobel Prize in Medicine. 1964: Andrea Politti, Argentine actress and television host. 1965: Guy Forget, French tennis player. 1965: Beth Gibbons, singer and American musician, of the band Portishead. 1965: Julia Ormond, British actress. 1971: Juan Carlos Garcia (actor), Venezuelan model and actor. 1973: Laia Marull, Spanish actress. 1973: Gastდ³n Ricaud, Argentine actor. 1977: Iran Castillo, Mexican actress. 1978: Dominik Hrbatდ½, Slovak tennis player. 1978: Mai Meneses, Spanish singer of the group Nena Daconte. 1979: Jeph Howard, American musician, of the band The Used. 1979: Tristan Gommendy, French racing driver. 1980: Alexandra Jimდ©nez, Spanish actress. 1980: Yaroslav Popovych, Ukrainian cyclist. 1980: Luდ­s Miguel Brito, Portuguese footballer. 1980: Chantal Baudaux, Venezuelan model, television and theater actress. 1982: Paulo Ferrari, Argentine footballer. 1983: Spencer Chamberlain, American singer, of the band Underoath. 1984: Javi Fuego, Spanish footballer 1985: Al Jefferson, American basketball player. 1985: Ross Turnbull, British footballer. 1986: James Milner, British footballer. 1990: Toni Kroos, German footballer. 1992: Kris Bryant, American baseball player. 1995: Marდ­a Isabel Lდ³pez, Spanish singer. 1998: Coco Jones, American actress and singer. 2003: Jaeden Lieberher, actor and American.