People born on March 17 may achieve a good position, but they will be at risk of catastrophe.
They also receive protection from people of higher rank. Socially disposed: they gladly fulfill their duties to others and do not wish to cause any inconvenience to anyone. They are not revolutionary people: they fully accept existing moral and social systems, and are equal to them. They also endure life experiences, limitations, and pressures to which they are subjected. They are funny and can find the funny side in everything, and this can lead to dissatisfaction with those around them because of their words. It should be added that other people often do not understand and judge them unfairly, since they are not able to evaluate their good and pure intentions. What threatens them: They may be defeated by a sudden and unexpected tragedy that undermines the results of their efforts and ruins their hopes. Therefore, they must be very careful and work hard to shed the seeds of their work in the broad fields of society. Will they see the harvest? It is not known. How to raise a child born on this day? The best efforts of educators should be directed at developing the will of these children. They sometimes show strange stubbornness, but it shouldn't be considered a sign of strong will, so you should try to put a stop to those sudden outbursts. Because often, it is just a feeling of shame caused by your high sensitivity, that you have been painfully hurt by someone. Because these children display important talents, they must be taught early on to figure out and decide for themselves based on certain principles outlined by educators. The child will quickly understand them and put them into practice.
March 17 - personality and character
character: 
cheerful, cautious, noble, inquisitive, playful, mean
profession: 
shoemaker, accountant, painter
colors: 
yellow, pink, olive
stone: 
lapis lazuli
animal: 
lobster
plant: 
coconut palm
lucky numbers:
  4,6,12,24,49,56
super lucky number:
  22 [caption id="attachment_19451" align="aligncenter" width="612"]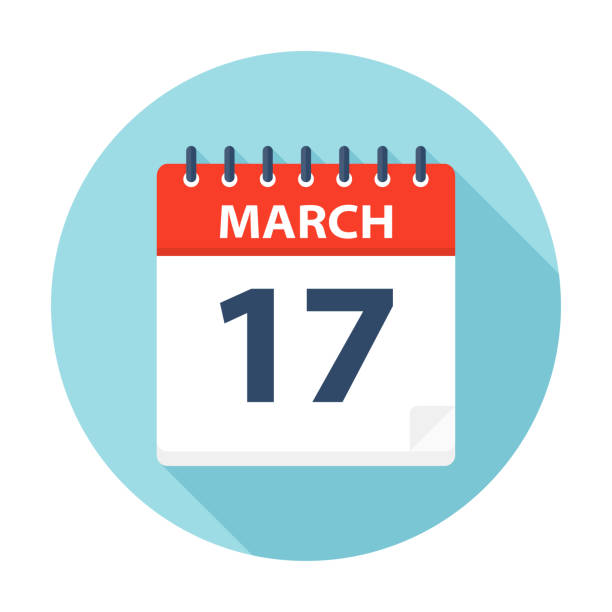 March 17 - Calendar Icon - Vector Illustration[/caption]
Holidays and observances - March 17
Thailand: Muay Thai Day.
Saint Patrick's Day, patronal feast in honor of Saint Patrick.
March 17 Celebrity Birthday. Who was born the same day as you?
1901: Alfred Newman, American composer (d. 1970). 1902: Bobby Jones, American golfer (d. 1971). 1904: Patrick Hamilton, British writer (d. 1962). 1906: Brigitte Helm, Swiss-German actress (d. 1996). 1907: Takeo Miki, Japanese politician, 41st Prime Minister of Japan (d. 1988). 1912: Bayard Rustin, American activist (d. 1987). 1914: Sammy Baugh, American football player and coach (d. 2008). 1914: Juan Carlos Onganდ­a, Argentine military man, dictator between 1966 and 1970 (d. 1995). 1915: Bill Roycroft, Australian Olympic rider (d. 2011). 1916: Volodia Teitelboim, Chilean writer, politician and lawyer (f. 2008). 1919: Nat King Cole American singer, pianist and presenter (d. 1965). 1920: Josდ© Tomდ¡s Sდ¡nchez, Philippine cardinal (d. 2012). 1920: Sheikh Mujibur Rahman, Bangladeshi politician, 1st president of his country (d. 1975). 1921: Meir Amit, Israeli general and politician (d. 2009). 1925: Gabriele Ferzetti, Italian actor (d. 2015). 1926: Siegfried Lenz, German writer (d. 2014). 1927: Betty Allen, American soprano and educator (d. 2009). 1927: Francisco Gonzდ¡lez Ledesma, Spanish writer (d. 2015). 1929: Nelly Panizza, Argentine actress (d. 2010). 1930: Paul Horn, American flute player. 1930: James B. Irwin, American astronaut (d. 1991). 1930: Josდ© Migliore, Argentine car driver. 1933: Penelope Lively, British writer. 1936: Ken Mattingly, military man and American astronaut. 1938: Rudolf Nureyev, Russian dancer and choreographer (d. 1993). 1938: Keith O'Brien, Scottish cardinal. 1939: Bill Graham, Canadian politician. 1939: Alejandro Lozano, Spanish artist (f. 2003). 1939: Giovanni Trapattoni, Italian footballer and coach. 1941: Paul Kantner, American musician, of the band Jefferson Airplane. 1942: John Wayne Gacy, American serial killer (d. 1994). 1944: Pattie Boyd, American model and photographer. 1944: Cito Gaston, American baseball player and manager. 1944: John Sebastian, American singer, songwriter and guitarist. 1944: Juan Ramდ³n Verდ³n, Argentine footballer. 1945: Michael Hayden, American general. 1945: Elis Regina, Brazilian singer (d. 1982). 1945: Josდ© Watanabe, Peruvian poet. 1947: James Morrow, American writer. 1948: Eizo Tsuda, Japanese voice actor. 1948: William Gibson, Canadian writer and screenwriter. 1949: Patrick Duffy, American actor. 1949: Pat Rice, Irish footballer and coach. 1949: Manuel Rodrდ­guez Cuadros, Peruvian diplomat, politician and university professor. 1951: Scott Gorham, American musician, of the band Thin Lizzy. 1951: Kurt Russell, American actor. 1952: Barry Horne, British activist (d. 2001). 1952: Perla, Paraguayan-Brazilian singer. 1954: Marta Albertini, Uruguayan actress. 1954: Lesley-Anne Down, British actress. 1955: Mark Boone Junior, American actor. 1955: Josep Maria Margall, Spanish basketball player. 1955: Cynthia McKinney, American politician. 1955: Gary Sinise, American actor, director and bassist. 1958: Josდ© Manuel Abascal, Spanish athlete. 1958: Jorge Ramos, Mexican journalist. 1959: Danny Ainge, American basketball player and coach. 1960: Francisco Acuyo, Spanish poet and writer. 1960: Arye Gross, American actor. 1961: Alexander Bard, Swedish singer and songwriter, of the bands Army of Lovers, Vacuum and Bodies Without Organs. 1961: Sam Bowie, American basketball player. 1961: Dana Reeve, American actress, singer and activist (d. 2006). 1962: Esteban Arce, Mexican radio and television host. 1962: Kalpana Chawla, Indo-American astronaut and engineer (d. 2003). 1962: Patricia Etchegoyen, Argentine actress. 1962: Janet Gardner, American singer and guitarist. 1962: Roxy Petrucci, American drummer and musician. 1962: Pello Ruiz Cabestany, Spanish cyclist. 1964: Stefano Borgonovo, Italian footballer (f. 2013). 1964: Lee Dixon, British footballer. 1964: Rob Lowe, American actor and producer. 1964: Jacques Songo'o, Cameroonian footballer and coach. 1966: Josდ© Garcia, Spanish-French actor. 1966: Jeremy Sheffield, British actor and dancer. 1967: Van Conner, American bassist, of the band Screaming Trees. 1967: Billy Corgan, American musician, of the band The Smashing Pumpkins. 1968: Eri Nitta, singer, songwriter and Japanese actress. 1968: Mathew St. Patrick, American actor. 1969: Alexander McQueen, British fashion designer (d. 2010). 1970: Yanic Truesdale, Canadian actor. 1970: Gene Ween, American guitarist, of the band Ween. 1972: Melissa Auf der Maur, Canadian singer, songwriter and bassist. 1972: Mia Hamm, American soccer player. 1973: Rico Blanco, Filipino guitarist, of the band Rivermaya. 1973: Caroline Corr, Irish composer and percussionist, drummer for the band The Corrs. 1974: Paty Dდ­az, actress and Mexican model. 1975: Justin Hawkins, British musician, of the band The Darkness. 1975: Gina Holden, Canadian actress. 1975: Andrew Martin, Canadian professional wrestler. 1975: Natalie Zea, American actress. 1976: Brittany Daniel, American actress. 1976: Stephen Gately, Irish singer, songwriter and actor (d. 2009). 1976: დ?lvaro Recoba, Uruguayan soccer player. 1978: Pilar Rubio, Spanish actress, model and reporter. 1978: Saვ¡a Staniვ¡iე‡, Bosnian-German writer. 1979: Nicole Coco Austin, American model and actress. 1979: Stormy Daniels, American porn actress. 1979: Sharman Joshi, Indian actor. 1979: Stephen Kramer Glickman, American actor, fashion designer and comedian. 1979: Samoa Joe, American wrestler. 1980: Danny Califf, American footballer. 1980: Katie Morgan, American porn actress. 1980: Aisam-ul-Haq Qureshi, Pakistani tennis player. 1981: Servet დ‡etin, Turkish footballer. 1981: Leandro Romagnoli, Argentine footballer. 1981: Kyle Korver, American basketball player. 1982: Steven Pienaar, South African footballer. 1983: Raul Meireles, Portuguese soccer player. 1984: Ryan Rottman, American actor. 1986: Chris Davis, American baseball player. 1986: Edin Dვ¾eko, Bosnian footballer. 1986: Miles Kane, British musician and guitarist, of the bands The Little Flames, The Rascals and The Last Shadow Puppets. 1986: Olesya Rulin, Russian actress. 1987: Federico Fazio, Argentine footballer. 1987: Rob Kardashian, American television personality. 1987: Francisca Valenzuela, Chilean singer and songwriter. 1988: Rasmus Elm, Swedish footballer. 1988: Fraser Forster, British footballer. 1988: Grimes, Canadian singer. 1989: Arდ¡n de las Casas, Venezuelan actor. 1989: Shinji Kagawa, Japanese footballer. 1989: Juan Lagares, Dominican baseball player. 1990: Hozier, Irish singer. 1990: Saina Nehwal, Indian badminton player. 1990: Jean Segura, Dominican baseball player. 1991: Antonio Luna Rodrდ­guez, Spanish soccer player. 1991: Gabriel Lდ³pez (actor), actor, singer, model and Venezuelan presenter. 1992: John Boyega, British actor. 1992: Yeltsin Tejeda, Costa Rican soccer player. 1995: Akari Hayami, actress and former Japanese idol. 1997: Katie Ledecky, American swimmer.