People born on March 19 are energetic, active - they show tendencies for democracy. They enjoy everything that is new and progressive.
Horoscope and personality for those born on March 19
They want to lead others and be at the forefront, without taking subordinate positions or serving others.
They gladly form various plans and projects, but they do not like to listen to others and always wish to walk their own paths. Sensual, courageous, hardworking people - often show significant determination. They enjoy everything new and progressive, facing all the tasks that life throws at them with energy and determination. Ambitious, they want to stand out and achieve recognition. They like to alter their environment and do not show too great a family instinct. They can break through in any situation, but they are especially well suited for mental work, politics, and industry. They are often very restless and act without thinking, in a hasty and sudden way. These are the most common causes of its failures. They are also very sensitive, attentive, and able to connect with the thoughts and feelings of others. Deep down, they wish everyone the best. They gladly forgive the mistakes of others, which makes them the best teachers possible, in the highest sense of the word. Still, the nature of such people is somewhat strange. On the one hand, they want to show their kindness and sacrifice; on the other, they feel very little trust in others when it comes to life matters. They need peace and harmony to achieve full development. They have their constant habits and are interested in details, such as comfort and pleasure. Despite their quest for independence, they are heavily influenced by other people, causing their lives to constantly change. They often struggle with adversity from their youth. What threatens them: That their mind is locked in misanthropic isolation and passivity towards the tasks of life. What should they aspire to? Let your will and your reason guide you, rather than your feelings; Also, do not give in to the influence of other people and deviate from your own principles. [caption id="attachment_19455" align="aligncenter" width="612"]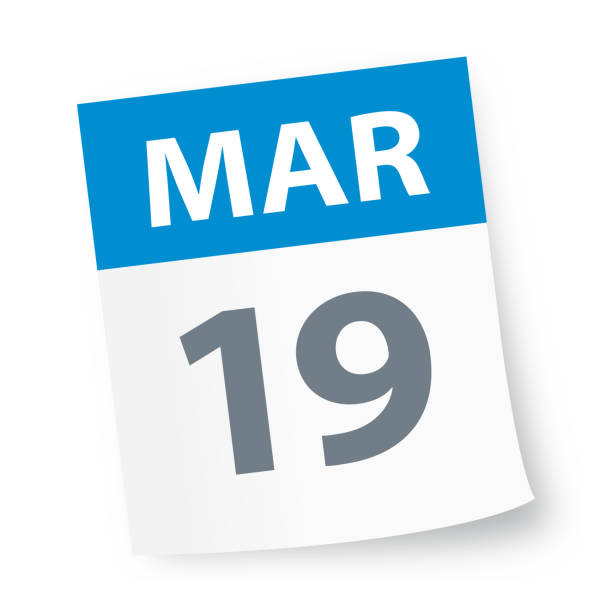 March 19 - Calendar Icon - Vector Illustration[/caption]
Zodiac sign for those born on March 19
If your birthday is on March 19, your zodiac sign is  Pisces
March 19 - personality and character
character: 
realistic, perceptive, cheerful, disdainful, curious, mean
profession: 
violinist, translator, aviator
colors: 
orange, green, emerald
stone: 
turquoise
animal: 
anteater
plant: 
potato vine
lucky numbers:
  1,8,13,28,31,45
super lucky number:
  12
Holidays and observances - March 19
Patronal feast in Villa Insurgentes in the San Josდ© del Calabazal Parish.
Day of the Province of Cდ¡diz (Spain).
University Worker's Day in Venezuela.
International Craftsman's Day.
Men's Day in Colombia.
Father's Day in Spain and many other countries.
Day of the Service Assistant and Drivers of Hospitals and Health Clinics (Chile).
Las Fallas in Valencia.
Patron Festivities in the "Folklore Capital of Venezuela" Elorza, Apure State.
Maids' Day in Mexico in the Federal District.
Peasant fair in San Josდ© de Suaita (Colombia) in honor of the town's patron.
March 19 Celebrity birthdays. Who was born the same day as you?
1900: Jean Frდ©dდ©ric Joliot-Curie, French physicist, Nobel Prize winner for chemistry in 1935. 1903: Josდ© Cuatrecasas Arumდ­, Spanish botanist and pharmacist (f. 1996). 1905: Albert Speer, German Nazi architect. 1906: Adolf Eichmann, German Nazi leader (d. 1962). 1907: Elizabeth Maconchy, British composer (d. 1994). 1909: Louis Hayward, British actor. 1909: Jდ³zef ვ?obodowski, Polish writer (d. 1988). 1914: Jiang Qing wife of Mao Zedong. 1916: Irving Wallace, American writer. 1917: Dinu Lipatti, Romanian pianist and composer (d. 1950). 1919: Lennie Tristano, American jazz pianist (d. 1978). 1920: Josდ© Gდ¡ndara Villegas, Spanish cyclist (d. 2010). 1923: Pamela Britton, American actress (d. 1974). 1926: Alfonso Silva Placeres, Spanish footballer (f. 2007). 1928: Hans Kდ¼ng, Swiss theologian. 1928: Patrick McGoohan, American actor. 1929: Miquel Martდ­ i Pol, Spanish writer (b. 2003). 1933: Philip Roth, American novelist. 1933: Renდ©e Taylor, American actress. 1934: Jorge Rivera Lდ³pez, Argentine actor. 1936: Ursula Andress, Swiss actress. 1936: Eduard Gufeld, Ukrainian chess player (d. 2002). 1937: Egon Krenz, German politician. 1937: Miguel Gonzდ¡lez Avelar, Mexican politician and lawyer (d. 2011). 1940: Gabriel Dდ­az Berbel, Spanish politician (d. 2011). 1941: Bruno Gelber, Argentine pianist. 1943: Mario J. Molina, Mexican scientist, Nobel Prize in Chemistry in 1995. 1943: Mario Monti, Italian politician. 1944: Said Musa, Belizean Prime Minister. 1944: Sirhan Bishara Sirhan, Palestinian assassin. 1946: Paul Atkinson, British musician, of the band The Zombies. 1946: Kado Kostzer, Argentine playwright and director. 1946: Bigas Luna, Spanish film director. 1946: Ruth Pointer, American singer. 1947: Glenn Close, American actress. 1948: Teo Tapia, Mexican actor. 1950: Paul Elliott, British tenor. 1951: Edgardo Nieva, Argentine actor. 1952: Harvey Weinstein, American film producer. 1953: Billy Sheehan, American bassist, of the band Mr. Big. 1953: Ricky Wilson, American musician, of the band The B-52's. 1955: Bruce Willis, American actor. 1955: Volker Tannert, German sculptor. 1959: Terry Hall, British singer-songwriter, of the band The Specials 1960: Eliane Elias, Brazilian pianist. 1963: Gustavo Rowek, Argentine drummer. 1964: Yoko Kanno, composer, arranger and vocalist of Japanese origin. 1964: Jake Weber, British actor. 1964: Cristina La Veneno veddette, Spanish singer and actress. 1964: Nicola Larini, Italian racing driver. 1964: Juan Carlos Arango, Colombian television actor. 1969: Gary Jules, American singer-songwriter. 1971: Josდ© Saturnino Cardozo, Paraguayan soccer player. 1973: Bun B, African American rapper. 1974: Vida Guerra, Cuban actress and model. 1975: Belდ©n Blanco, Argentine actress. 1975: Brann Dailor, American drummer, of the Mastodon band. 1975: Vivian Hsu, Taiwanese singer, actress and model. 1976: Rachel Blanchard, Canadian actress. 1976: Zach Lind, American musician, of the band Jimmy Eat World. 1976: Andre Miller, American basketball player. 1976: Alessandro Nesta, Italian footballer. 1977: Fayez Banihammad, Emirati terrorist who participated in 9/11 (d. 2001). 1979: Ivan Ljubicic, Croatian tennis player. 1979: Marდ­a Vდ¡zquez, Spanish actress. 1979: Hedo Tდ¼rkoglu, Turkish basketball player. 1980: Antonella Costa, Italian-Argentine actress. 1980: Mikuni Shimokawa, Japanese singer. 1981: Josდ© Castillo, Venezuelan baseball player. 1981: Kolo Tourდ©, ivory footballer. 1982: Eduardo Saverდ­n, Brazilian businessman, co-founder of Facebook. 1982: Patricio Toranzo, Argentine soccer player. 1983: Evan Bourne, American professional wrestler. 1983: Ana Rezende, Brazilian film director and guitarist, of the band Cansei de Ser Sexy. 1985: Ernesto Viso, Venezuelan motor racing driver. 1987: AJ Lee, American professional wrestler. 1987: Mike Zubi, Argentine actor, singer and songwriter. 1988: Clayton Kershaw, American baseball player. 1991: Aleksandr Kokorin, Russian footballer. 1997: Ruta Meilutyte, Lithuanian professional swimmer.