People born on September 1 could be successful in show business, journalism, and literature.
Horoscope and personality for those born on September 1
There is a lot of obedience and humility in his nature. They feel a subconscious striving for all that is pure and an ideal longing for what is sublime, proportionate, and beautiful in its form.
Inventive people, skilled in all kinds of scientific studies: are characterized by their love of medicine and chemistry. Their style is fluid and clear, and their literary skills can reach a high level of development and bring them general recognition. They also tend to make a career out of it quickly, as, despite all their modesty, they show great skill in every life situation where there is something to do. They are very interested in hygiene and are often prone to exaggeration in its maintenance, feeding, diet, etc.
This gets stronger as they get older. However, they generally suffer from imaginary illnesses whose symptoms they completely seek on their own. They also often talk about these delusional ailments, and their strong imagination could even make them sick. When it happens, they find comfort in telling everyone about their suffering, at which point they become very pretentious and indifferent to the suffering of others. What threatens them?
Financial losses that they will not be able to avoid. Your marriage may be less fortunate, and your spouse may become angry and overly fond of housework. It should be added that the suggestions related to each day of the year, naturally, have to be very general, which does not exclude completely opposite individual cases, depending on the horoscope and the character of a given person. Flaws: People born on this day are quite passive in character, often caring little about their duties and performing them only to get them out of the way as soon as possible. They are attached to luxury and comfort, they are not very fond of effort, and it is easy for them to explode in anger.
Zodiac sign for those born on September 1
If your birthday is on September 1, your zodiac sign is  
Virgo
.
September 1 - personality and character
character: 
 tough, disinterested, loyal, contemptuous, gutless, shy;
profession: 
 accountant, artist, bookbinderjoiner;
colors: 
 gray, brown, emerald;
stone: 
 lapis lazuli;
animal: 
 fish;
plant: 
 sassafras tree;
lucky numbers:
  2,11,45,51,57,58
super lucky number:
  1
Holidays and Observances - September 1
Flag of Germany East Germany: International Day of Peace (until 1990).

Flag of Libya Libya: Day of the Revolution (until 2011).

Slovakia: Constitution Day

Cameroon: National Unity Day

Russia: Teaching Day

Singapore: Teacher's Day

Uzbekistan: Independence Day

Honduras: National Flag Day

Start of the liturgical year of the Orthodox Church

Annual report of the President of Mexico to the National Congress.

Old national holidays:

Start of the school year in many countries of the Northern Hemisphere.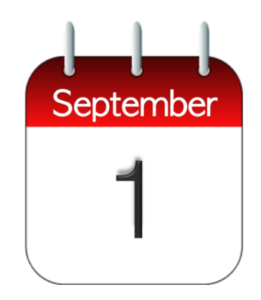 September 1 Celebrity Birthday. Who was born the same day as you?
1900: Josდ© Pedro Cea, Uruguayan soccer player (d. 1970).
1906: Joaquდ­n Balaguer, politician and Dominican president (f. 2002).
1906: Franz Biebl, German composer (d. 2001).
1906: Eleanor Hibbert, British writer (d. 1993).
1907: Gabriel Sდ¡nchez de la Cuesta, Spanish physician (d. 1982).
1910: Pierre Bდ©zier, French mathematician (f. 1999).
1911: Francisco Bonilla Martდ­, Spanish obstetrician and gynecologist (f. 1994).
1911: Komei Abe, Japanese composer, conductor, and musician (d. 2006)
1915: დ‰mile Masson, Belgian cyclist (d. 2011).
1915: Xam, Spanish painter (f. 2001).
1917: Rinus Meijer, Dutch sculptor (d. 1985).
1920: Leny Eversong, Brazilian singer (d. 1984).
1920: Richard Farnsworth, American actor (d. 2000).
1920: Hubert Lampo, Belgian writer (d. 2006).
1920: Reynaldo Mompel, Argentine actor (f. 2005).
1922: Yvonne De Carlo, Canadian actress (d. 2007).
1922: Vittorio Gassman, Italian actor (d. 2000).
1923: Rocky Marciano, American boxer (d. 1969).
1923: Kenneth Thomson, Canadian collector, and businessman (d. 2006).
1924: Gustavo Bueno, Spanish philosopher (d. 2016).
1925: Roy J. Glauber, American physicist, 2005 Nobel Prize in Physics.
1925: Art Pepper, American jazz saxophonist, and musician (d. 1982).
1930: Michel Serrდ©s, French philosopher.
1931: Javier Solდ­s, bolero singer and Mexican actor (d. 1966).
1931: Abdul Haq Ansari, Indian Islamic thinker (d. 2012)
1933: Conway Twitty, American country musician (d. 1993).
1933: Ann Richards, American politician (d. 2006).
1934: Terepai Maoate, Cookian politician (d. 2012).
1935: Raდºl Araiza, Mexican producer, and filmmaker (d. 2013).
1935: Seiji Ozawa, Japanese conductor, and musician.
1938: Per Kirkeby, Danish painter.
1939: Lily Tomlin, American actress, and comedian.
1942: CJ Cherryh, American writer.
1942: Antდ³nio Lobo Antunes, Portuguese writer.
1945: Mustafa Balel, Turkish writer and translator.
1946: Barry Gibb, British musician of the band Bee Gees.
1946: Roh Moo-hyun, South Korean president (d. 2009).
1947: Leonardo Simons, Argentine television presenter (d. 1996).
1948: Ramდ³n Jდ¡uregui, Spanish politician.
1950: Mikhail Fradkov, Russian politician.
1950: Phil McGraw, American psychologist, television presenter, and writer.
1951: Yoel Acosta Chirinos, Venezuelan military and politician.
1951: Cristina Lemercier, actress and Argentine television presenter (d. 1996).
1955: Jesდºs Bonilla, Spanish actor, and filmmaker.
1957: Gloria Estefan (Gloria Marდ­a Milagrosa Fajardo Garcდ­a), Cuban singer.
1957: Duვ¡ko Ivanoviე‡, Montenegrin basketball player and coach.
1957: Mohammad Ali Jafari, Iranian military, current commander of the revolutionary guard.
1958: Armi Aavikko, Finnish singer (f. 2002).
1961: Scott Bigelow, American professional wrestler (d. 2007).
1962: Ruud Gullit, Dutch footballer.
1966: Tim Hardaway, American basketball player.
1966: Ariel Rivera, Filipino actor, and singer.
1968: Mohamed Atta, Egyptian terrorist leader of 9/11 and participant in the attack (f. 2001).
1969: Armando Araiza, Mexican actor.
1969: Enric Masip, Spanish handball player.
1969: Darდ­o Scotto, Argentine footballer.
1970: Hwang Jung-min, South Korean actor
1971: Lდ¢დ¢m, French singer of Tunisian origin.
1971: Jimmy Snuka, Jr., American professional wrestler.
1971: Hakan ვ?დ¼kდ¼r, Turkish footballer.
1972: Josდ© Luis Garcდ­a Pდ©rez, Spanish actor.
1974: Jhonen Vasquez, Mexican-American cartoonist.
1975: Cuttino Mobley, American basketball player.
1975: Omar Rodrდ­guez-Lდ³pez, Puerto Rican musician, from the band The Mars Volta.
1975: Scott Speedman, Anglo-Canadian actor.
1975: Maritza Rodrდ­guez, Colombian actress, model, presenter and businesswoman.
1976: Jada Fire, an American porn actress.
1976: დ‰rik Morales, Mexican boxer.
1976: Sebastiდ¡n Rozental, Chilean footballer.
1977: David Albelda, Spanish footballer.
1979: James O'Connor, Irish footballer.
1979: Fernando Varela, Spanish footballer.
1979: Cecilia Pineiro, Mexican actress.
1980: Sammy Adjei, Ghanaian footballer.
1980: Josდ© Madero Vizcaino, Mexican singer, of the Panda band.
1982: Ryan Gomes, American basketball player.
1983: Marcelo Carrusca, Argentine footballer.
1983: Josდ© Antonio Reyes, Spanish footballer.
1984: Joseph Trohman, American guitarist of the band Fall Out Boy.
1984: Yuta Hiraoka, Japanese actor.
1985: Camile Velasco, Filipino singer
1986: Gaდ«l Monfils, French tennis player.
1986: Stella Mwangi, Norwegian singer of Kenyan origin.
1988: Chanel West Coast, rapper, and American model
1989: Bill and Tom Kaulitz, German musicians from the band Tokio Hotel.
1989: Lisandro Ezequiel Lდ³pez, Argentine soccer player.
1989: Jefferson Montero, Ecuadorian soccer player.
1989: Daniel Sturridge, British footballer.
1992: Kirani James, Grenadian athlete.
1994: Carlos Sainz Jr., Spanish Formula 1 driver.
1994: Bianca Ryan, American singer.
1995: Munir, Spanish-Moroccan soccer player.
1996: Zendaya Coleman, American actress.
1997: Jeon JungKook, South Korean singer of the band Bangtan Boys.